UFO Day 2023 is scheduled for Saturday, October 28th. Contact the Belleville Chamber of Commerce for details. 
https://belleville-wi.com/chamber-members
The annual event includes a UFO-themed parade where children are encouraged to dress in their Halloween costumes and bring containers to collect candy from the parade participants. Throughout the day other events take place.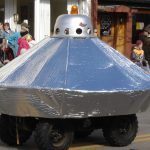 To participate in the parade, contact Rick Francois at  608-424-0144 / francoisrick@gmail.com
Belleville, WI UFO DAY, Saturday, October 29th, 2022
UFO Day Parade on Main Street
1:00 pm
————————-