After a year away, Belleville is bringing back the UFO Day Parade and Festivities, Saturday October 30th.
The annual event includes a UFO-themed parade where children are encouraged to dress in their Halloween costumes and bring containers to collect candy from the parade participants. Throughout the day other events take place.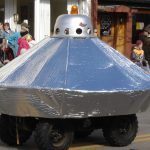 To participate in the parade, contact Rick Francois at  608-424-0144 / francoisrick@gmail.com
Belleville, WI UFO DAY, Saturday, October 30th, 2021
UFO Day Parade on Main Street
1:00 pm
————————-
At Schwoegler Sugar River Lanes, 807 River Street:
ATV Club pancake breakfast 7:30 to 11:30 am
"Alien Glo-n-Bowl" from 2 to 5
"UFO Day Monster Costume Ball" at 7:30 pm
     with live music by "Cloud 10" and costume contest.
————————
Friends of the Library Book Sale
     9 am – 3 pm in Old Library at Library Park
Music by Ken Lonnquist
     sponsored by the Belleville Public Library
     1:30 (Approximately, will start after the parade)
     Gazebo at Library Park
Drone Demonstrations by Randy Nolden
     sponsored by the Belleville Public Library
     11:30 and 11:45 at Community Park
——–
Belleville Senior Center Annual Color Run
     9 am Registration
10:00 am Color Run
     (Pre-registration is encouraged)
Fall Marketplace – craft items, direct sale items, and food vendors
     9:00 am – 3:00 pm at Belleville Senior Center (outside) & Library Park
Lunch stand on Vine Street
(Please note, this year all activities will be outside, although access to bathrooms will be available to the public)